Tools
FractMus has a set of tools to help you during the compositional process as well as in the editing part of an already created composition. Please refer to FractMus' help file for an in-depth description of each tool.


Composition Randomizer
Multiple Voice Editor
Transposer
Get Notes
Events Presets
Randomizer Parameters
Composition Maker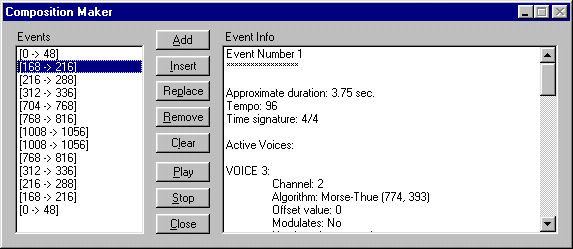 The Composition Maker is a utility that allows you to create complex compositions in short time. The Composition Maker works with Events. Every Event has a complete set of parameters (Start and End Counters, Voices, Algorithms, etc). A Composition is a group of Events played continuously. Events are completely independent from each other. You can add, insert, delete and play events individually (please refer to FractMus' help file for more details). You are limited to 1000 events per composition. The list box in the Composition Maker tells you the Start and End counters of every Event. Double-clicking on them will transfer all the Event's parameters to the main window.


Composition Randomizer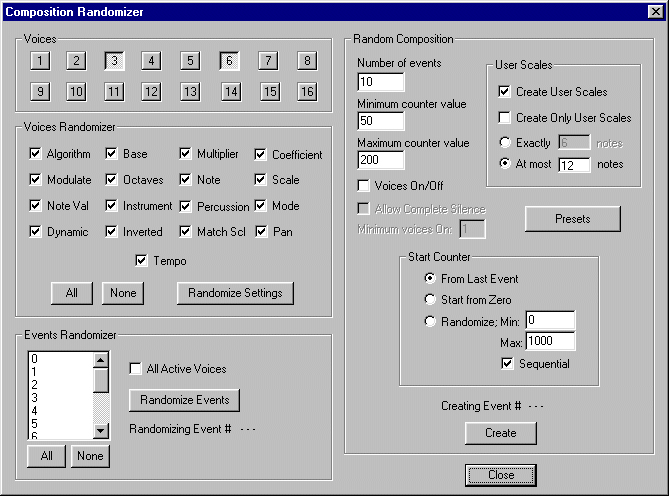 This tool, in conjunction with the Composition Maker, lets you to create compositions in a flash. It allows you to custom randomize all composition parameters (Algorithms, Scales, Octaves, Voices, etc). After you have set all the randomization parameters the way you like, pressing the Randomize button will randomize the main window; pressing the Create button will create a composition. For a more detailed explanation of the Randomizer refer to FractMus' Help file.
Multiple Voice Editor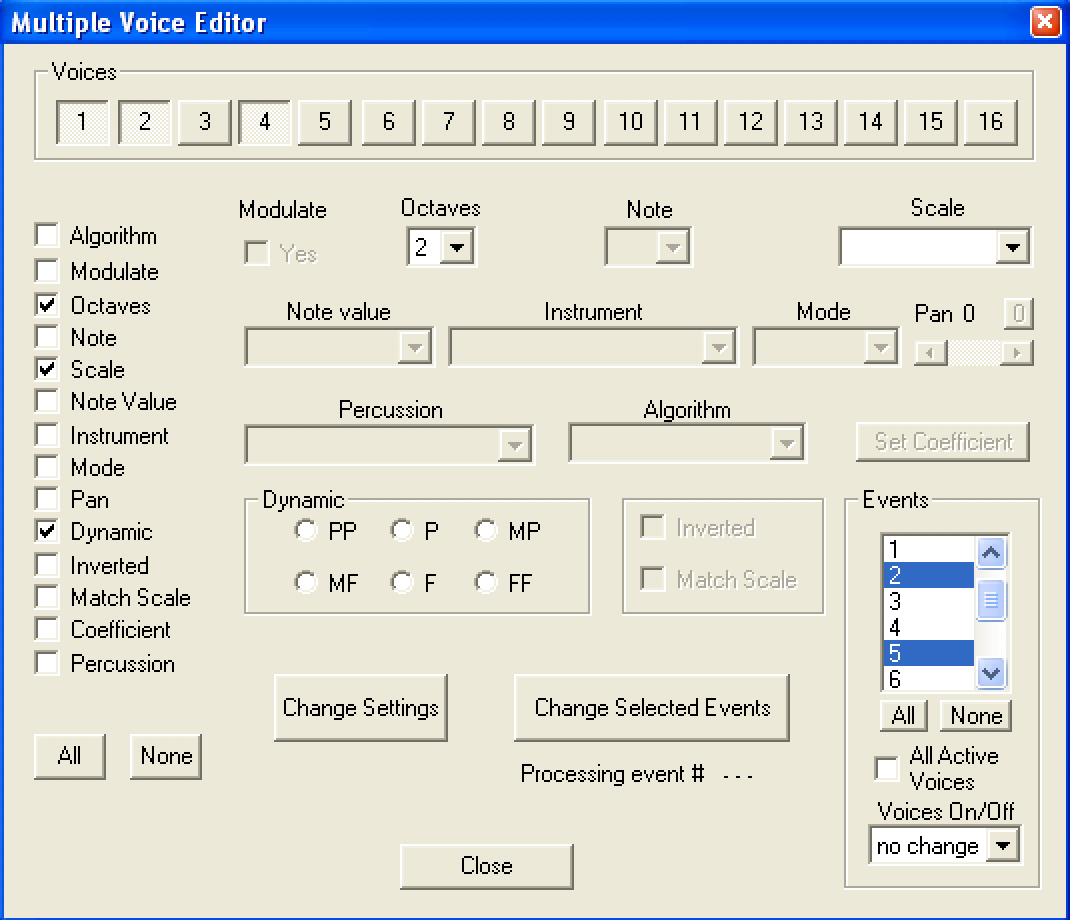 The Multiple Voice Editor is a time-saving utility that lets you change one or several parameters in the main window as well as in the Events of your compositions. Just select what you want to be changed, the voices it will affect, and which Events in your composition (if you have created one) will be modified, then press the Change Settings button (for main window modifications) or the Change Selected Events (for Events in your composition). Please refer to FractMus' Help file for a more detailed explanation.
Transposer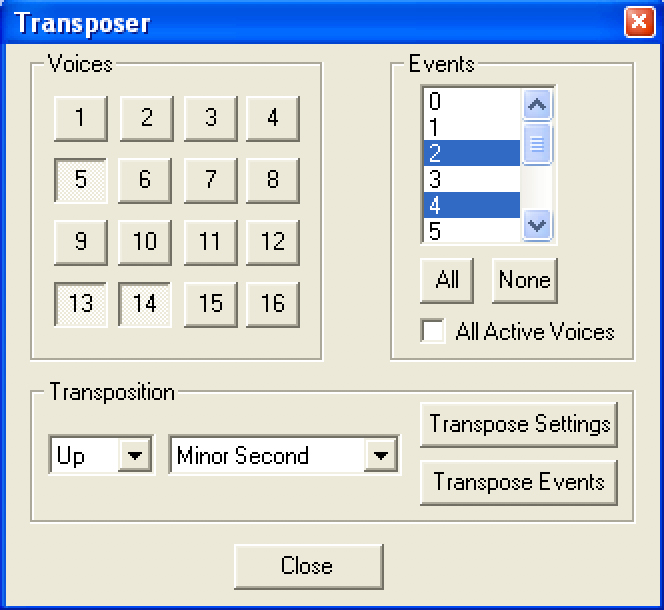 The Transposer is a utility that allows you to quickly transpose voices both in the Main Window and your compositions events. You can transpose any interval (from a minor second to an octave) up or down.


Get Notes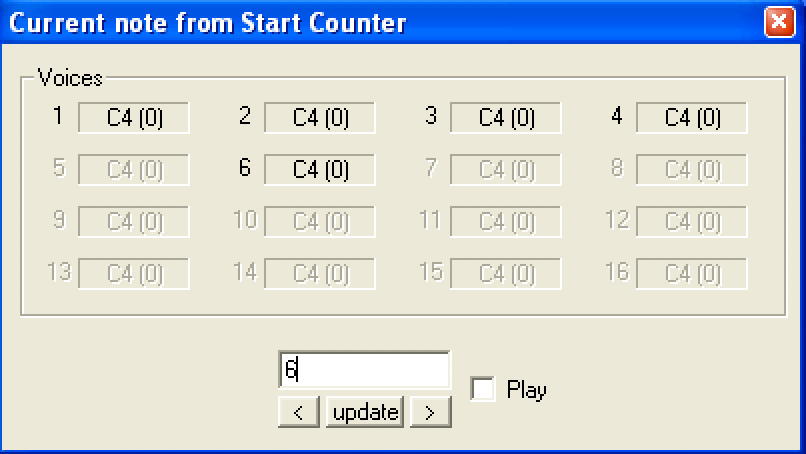 Get Notes is a utility that shows you the notes that will be generated from the Main Window voice parameters at the current Start Counter. Note names and numbers are shown. N/A will be displayed if your voices use random parameters. "None" will be displayed if, due to the offset parameter, the Start Counter for that voice is currently negative. You can move the counter up or down to go forward or backwards in the melody. You may also hear the notes by checking Play.


Events Presets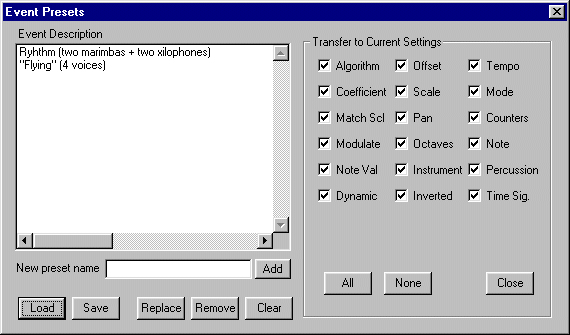 This utility allows you to create file libraries of pre-defined events. These may be later added to your compositions at any point.


Randomizer Parameters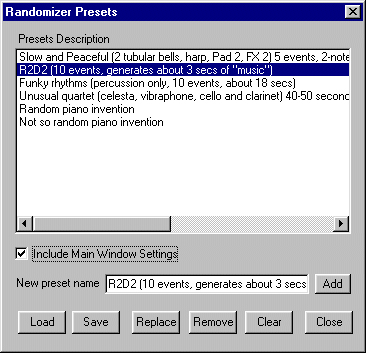 The Randomizer Parameters (accessed in the Composition Randomizer Tool) is a utility that lets you create file libraries of pre-defined Composition Randomizer parameter sets. These can later be used to create random compositions using the pre-defined parameters.